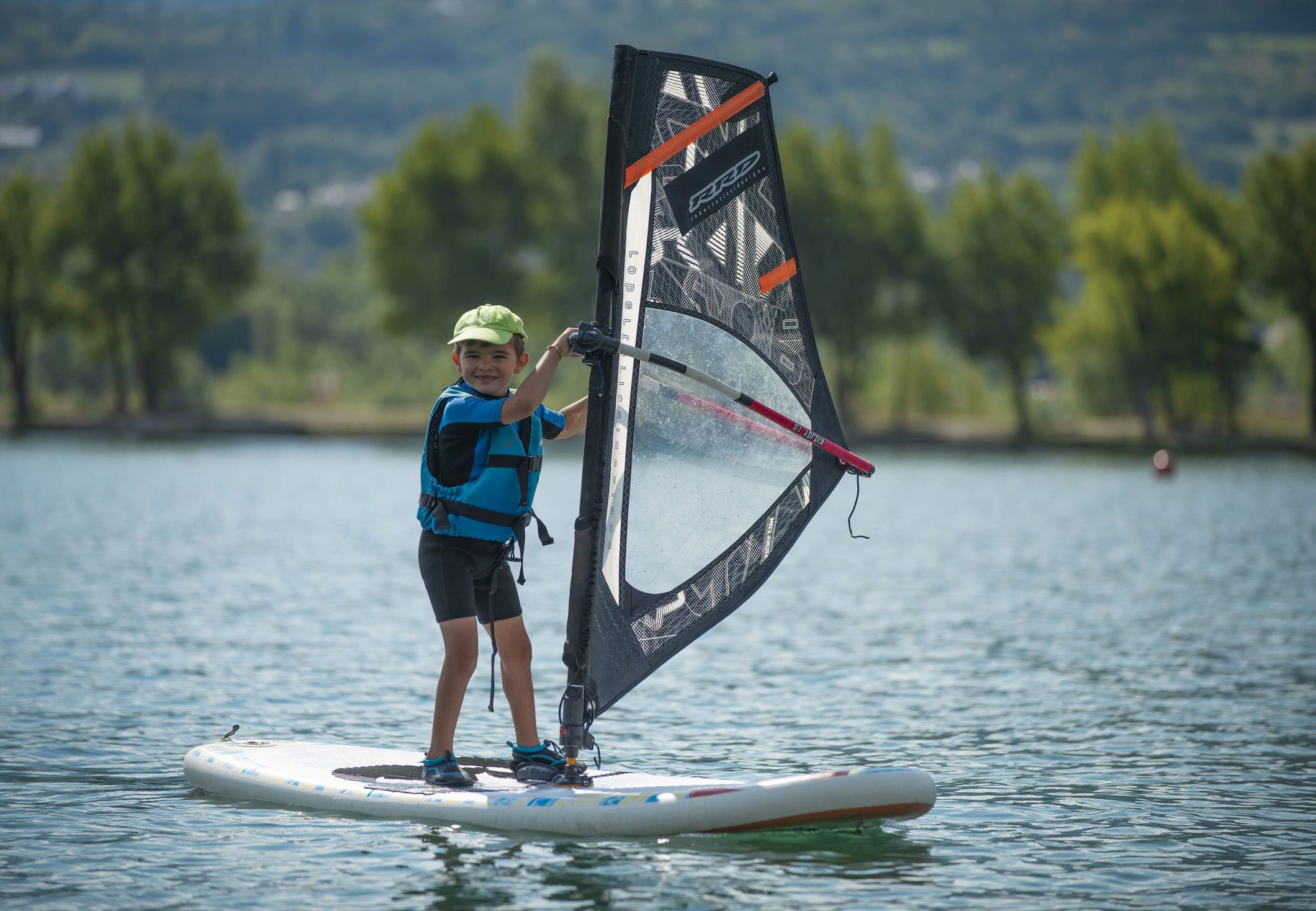 ''
Get started with windsurfing: a game of balance, imbalance, giggles, letting go, diving and the incredible feeling of gliding between lake and mountain. That's what learning to windsurf in Serre-Ponçon is all about !!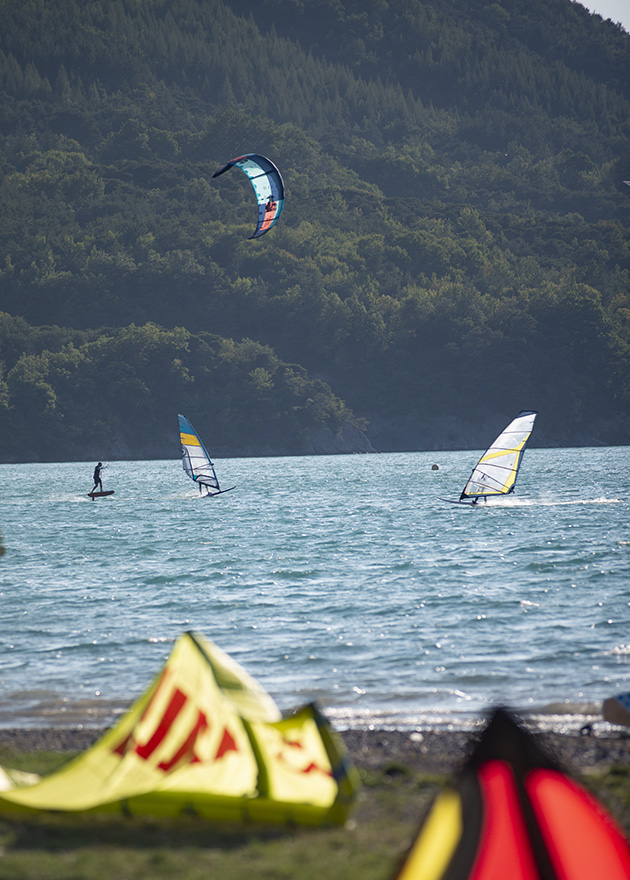 The Windsurfers Show
Lake Serre-Ponçon: it's fantastic!
A festival of kitesurfing, hydro-foiling and windsurfing takes place on our turquoise waters, under the radiant sun.
From the Savines-le-Lac bridge, the spectacle is truly thrilling – you'll be itching to join them and throw yourself into the fun !
The lake is calm, the breeze is light … At some point, you simply must go and that time is now! It's decided, today is the day you learn windsurfing.
Where can you get started windsurfing on Lake Serre-Ponçon? 
The beaches at the tail end of the lake offer up the best windy spots: Chadenas, the Chanterenne beach and its fresh water. Sailing schools can also be found in the bays of Chanteloube and Saint-Michel, and in Savines-le-Lac. For the little ones, beginner's courses are held on the lake of Embrun, with "sea garden" classes available from those aged 4 and up! Find all local windsurfing and sailing professionals at the bottom of this page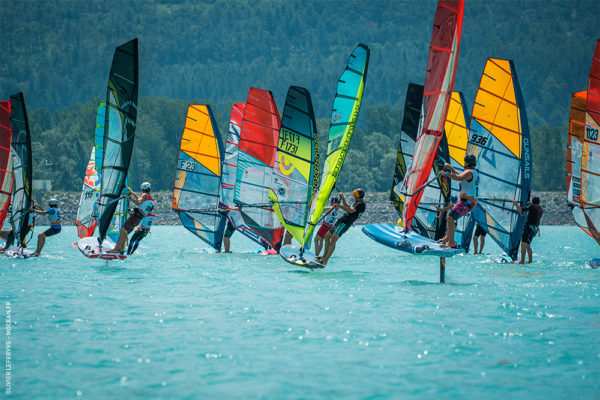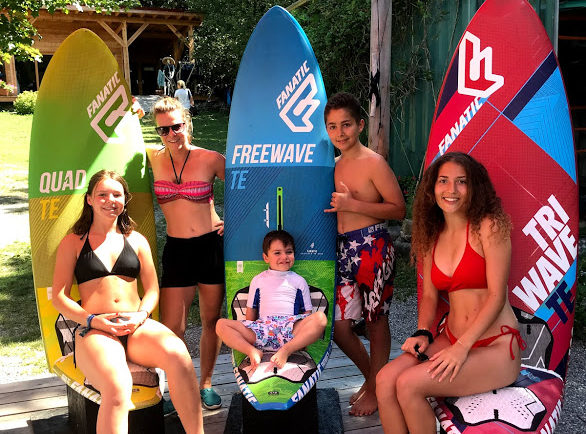 To each their own style …
En route to the beach and the shores of Lake Serre-Ponçon. A true delight for the senses! As windsurfers dash about effortlessly, others gliding at full speed, you can't wait to get on your board and try out this sport !
Register for a windsurfing course to learn the basics of this discipline. A sailing school will help you get to grips with this sport. You'll need a little theory, patience and practice before you set off into the wind.
There's no need to be a great athlete nor a reckless daredevil – the beginner boards are quite stable and you will feel perfectly safe.
Did you know ?
If the records are to be believed, four inventors claim to have created windsurfing. Though the first two worked alone, the other two formed a duo. From 1960 to 1968, three versions of the board were developed, although ultimately only one prevailed.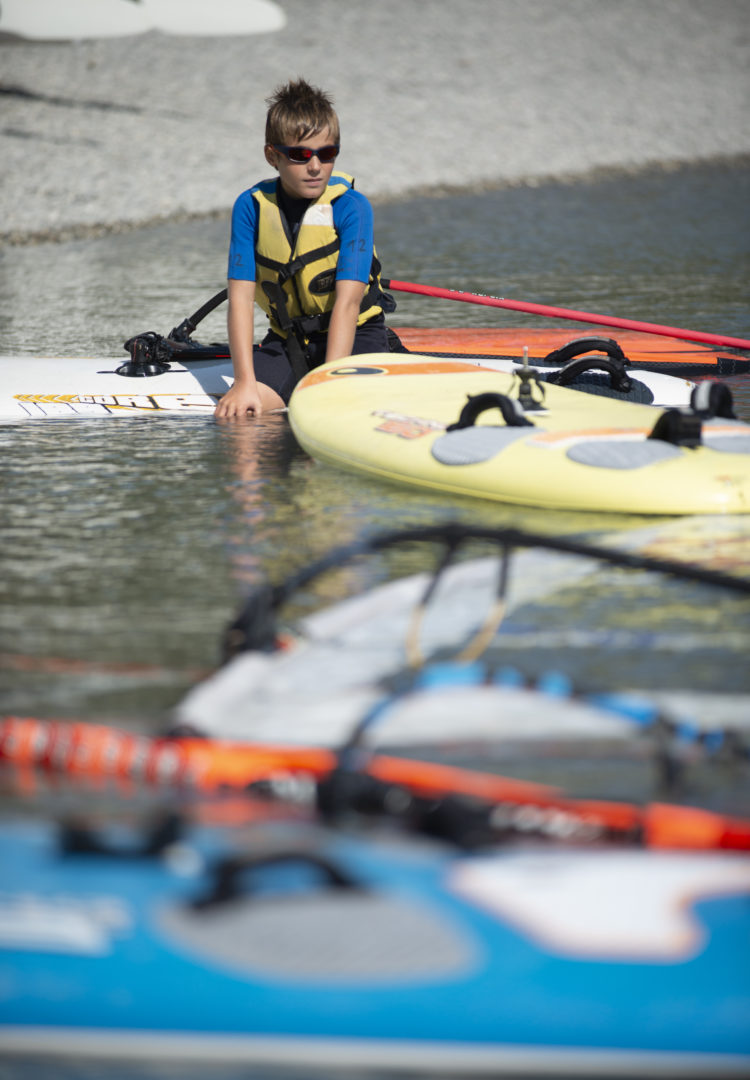 Getting started …

Excitement and concern come together in equal measures, though any worries are quickly expelled with Thierry's professionalism and humour.
After several contortions, sure to trigger a fit of giggles, you'll slip into your suit and tuck your feet into these fantastic neoprene slippers. Voila, you're now ready to face the elements at Lake Serre-Ponçon: water and air.

The concept is simple: one board, one rig. Stand up and take out your sail. It's a game of balance and imbalance, of "splash" and laughter !
Some reassuring advice from Thierry and a few spectacular dives later, and you'll have learnt the basic techniques. The wind rushes in, and you start to pick up speed !
 Our expert advice … 
The rig is made up of a sail, mast and boom assembly. In other words, the propellant part of the board.
The first few hours will help you learn how to keep your balance. Unlike surfing or paddleboarding, you won't have to stand up perfectly straight. Instead, you'll need to let go and stay relaxed as you balance the sail and orient it so as to catch the wind.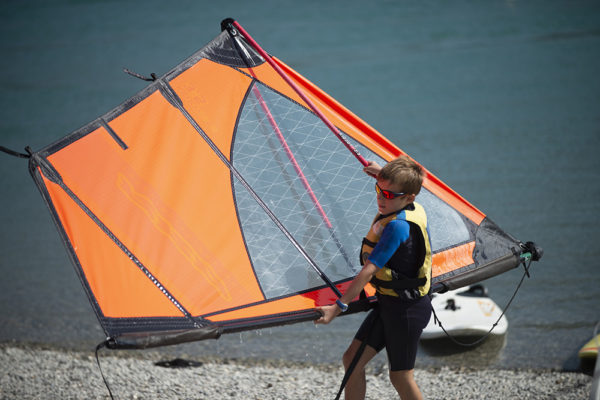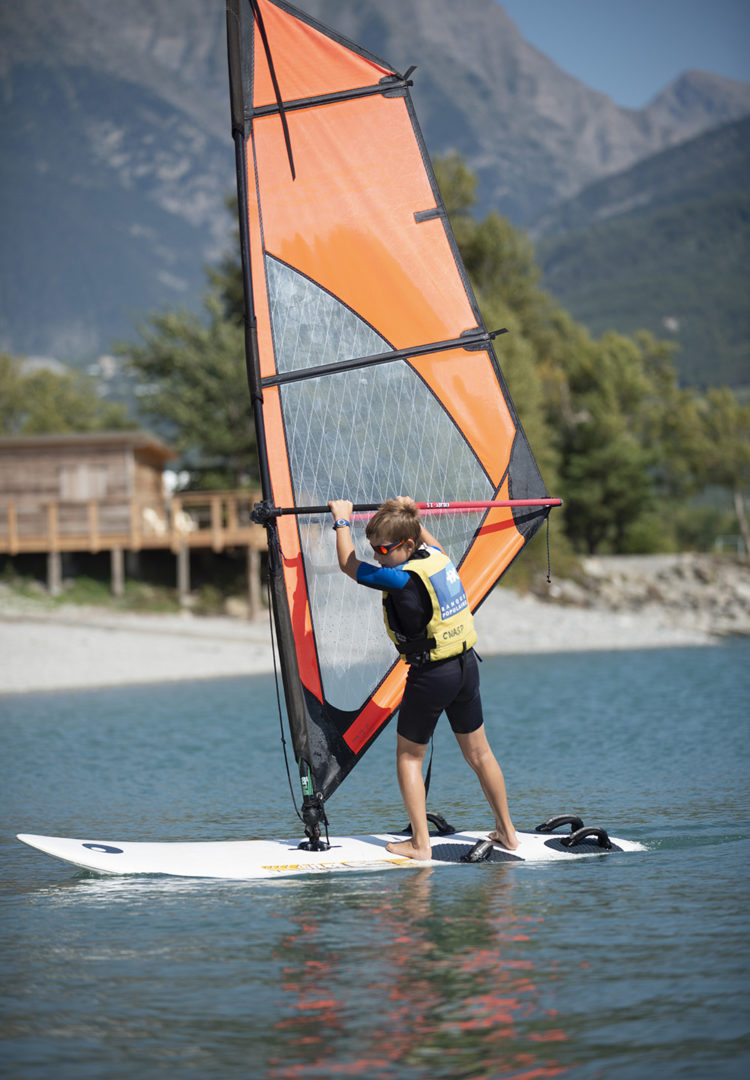 The incredible feeling of gliding
You speed by close to the water, with the wind in your face, toes gripping on to keep your balance … Then, you let go and fly over the waves !
It's time to make your way around the buoy. Wow! Riding on the wind is quite an art. You'll need to feel the slightest changes in the wind and adapt to the elements, modelling yourself on other windsurfers.
Here, everyone feels connected in a feeling of joy, freedom and escape – leaving all our worries behind.
In a group, with family or with friends. We see others fall, race over and help each other out – that's the spirit of windsurfing, a unique feeling that begs to be shared.
What will you need to take with you ? 
Your swimsuit, towel, sunscreen and – of course – your balance !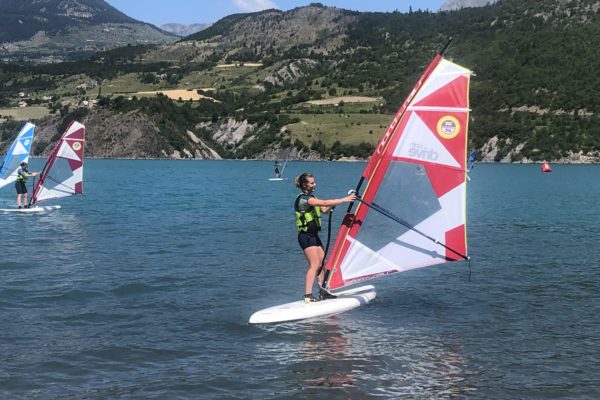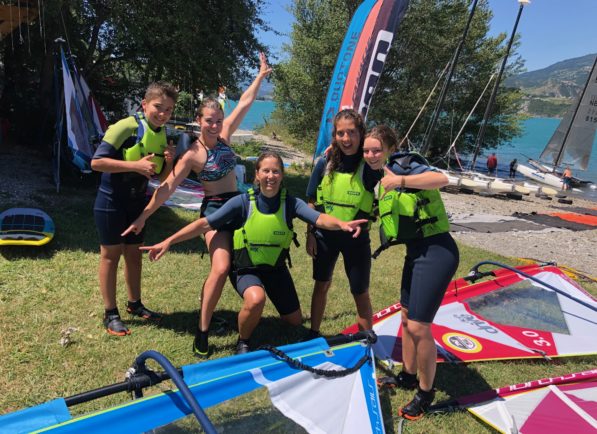 Free and spirited
Back on shore, you find yourself intoxicated, bursting with energy and, above all, thirsty!
Your muscles ache, and that characteristic mark of a surfer's tan can already be seen. Proud to have thrown ourselves into it, we're desperate to start all over again.
Windsurfing offers up an incredible feeling of gliding   that absolutely has to be experienced – and, most importantly, shared – in Serre-Ponçon.
''
Lake Serre-Ponçon is a sea in itself where water sports, such as windsurfing, welcome families with open arms! The temperature rises gradually and hits its peak at the end of the afternoon – with a steady forecast that makes it perfect for planning your holiday !
Karine.A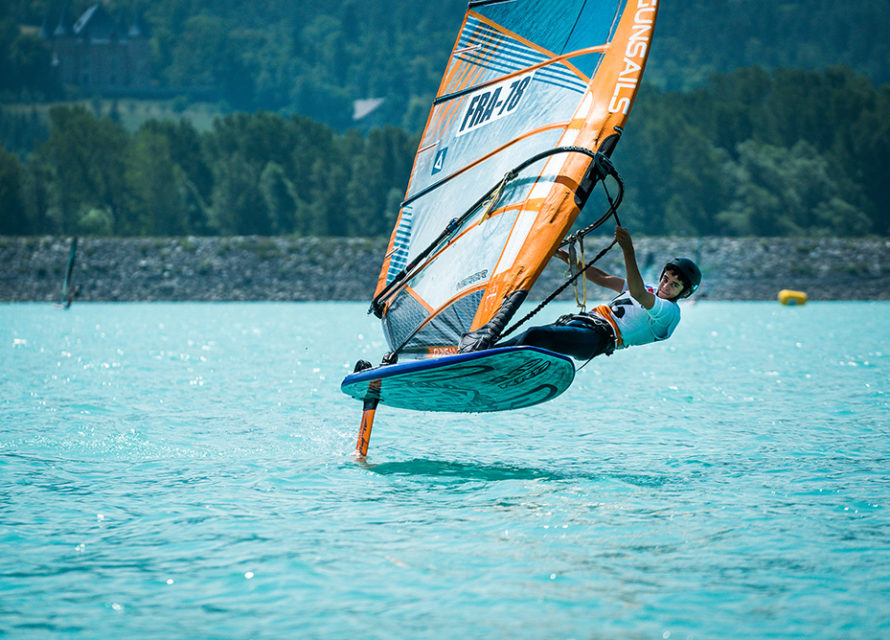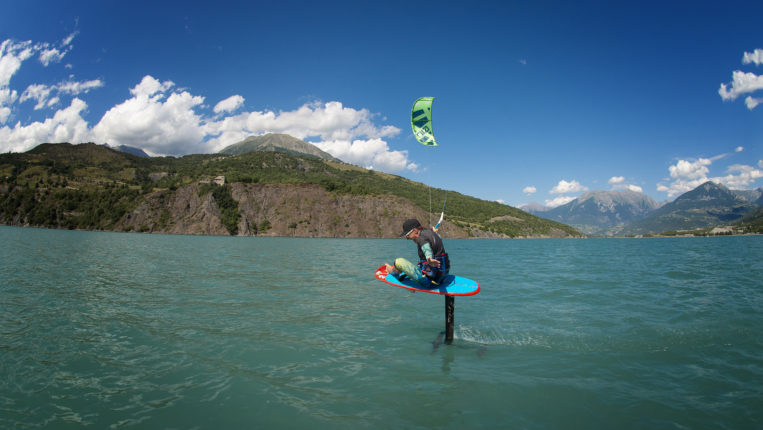 The new board sports of Kitesurfing and Windsurfing !
Are you a lover of windsurfing looking to discover new sensations ?
Kitefoil and windfoil,  the new kitesurfing and windsurfing board sports, are sure to charm !
Thanks to the foil, this fin located under the board, you can sail even faster with less wind !
Book your activities directly here :