Return
High points
Rafters down the Durance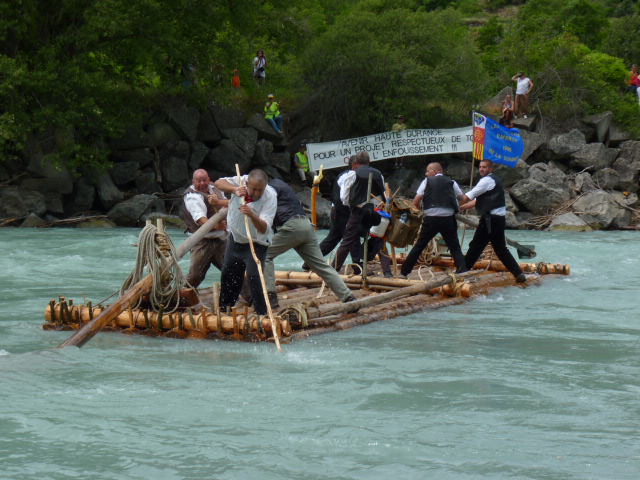 JUNE
CHATEAUROUX-LES-ALPES
''
A voyage back to the time of the Durance River timber rafters !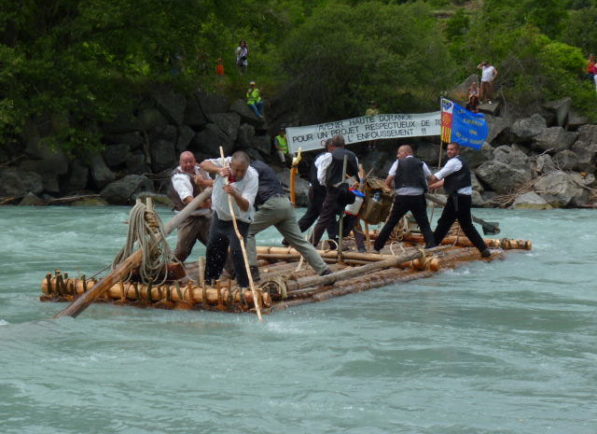 Along the river, relive this historic reconstruction
Join us to relive the 21st historic reconstruction of the 'remembrance rafts'. Head back in time during this event that is unlike any other and admire an exceptional display illustrating the history of the timber rafters.
Previously, the Durance was used for transporting timber as far as the Mediterranean, over a distance of 260 km. The different vessels transported the wood (larch, spruce, pine), which was used to supply materials to both shipyards and construction sites for major agglomerations up until the end of the 19th century. The rafts were composed of logs of wood tied together with plant ropes otherwise known as 'réortes'. The advent and development of railways led to the gradual abandon and ultimately the disappearance of this ancestral profession. Thus, in memory of these 'fresh water sailors', enthusiasts created the 'Radeliers de la Durance' association to bear witness to this historically dangerous profession.
Each year, the association organises two days of commemorations by retracing and revealing the history of this activity that was once essential to trade in our valleys. The rafts are built and organised in exactly the same way as they were at the time. An oarsman and helmsman in traditional costume, replace the rafters and kayakers on the Durance River during this reconstitution.
● Saturday 13 June 
8:30 a.m. Start from L'Argentière-la-Bessée towards Saint-Clément-sur-Durance
12 p.m.: Two 8-metre long rafts weighing roughly 700 kg arrive at the white-water centre in Saint-Clément
Meal prepared by the Jeunes Agriculteurs des Hautes-Alpes (young farmers) and local produce stands
Afternoon: completion of rafts for Sunday's rafting
● Sunday 14 June 
Departure from Saint-Clément-sur-Durance towards Embrun at approx. 2 p.m.
Morning: finish assembling and adjusting the oars for two new rafts
12 p.m.: Packed lunch
1:15 p.m.: Call for rafters
1:30 p.m.: Safety instructions
2 p.m.: The four rafts leave (two small rafts and two larger ones 12 to 16 m long)
4:30 p.m.: Arrival at the Embrun lake (dyke on the right bank)
Many activities: a mini raft to make taking photos easy, music and drinks stand, rafters' stand, children's 'draw a raft' colouring workshop, afternoon snack for children
(End May: raft assembly in l'Argentière-La-Bessée and Saint-Clément-sur-Durance with the Sarl Michel, forestry company)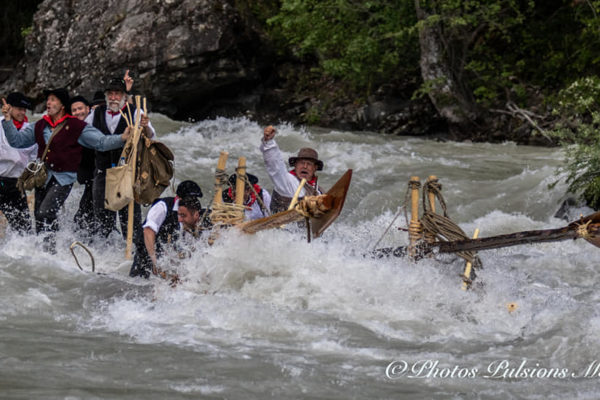 The best spots to watch the rafters go by
Vague du Rabioux in Châteauroux-les-Alpes: a legendary spot for white-water athletes, a freestyle hot spot
Pont-neuf in Embrun
Dyke on the lake in Embrun
''
I loved it. Thanks to the rafters for this wonderful show
Isabelle Setrak
More info on the Durance rafts